Join a Yin yoga online class with a difference
From the moment you step into our virtual yoga studio, instructors Susan and Greg will make you feel relaxed and empowered to continue your yoga journey.
Our Yin yoga online classes can transform your mobility, range of motion, and flexibility. Ready to start improving your practice with our guidance?
Get in touch
with us today.
FAQs
What makes Yin yoga special?
For many of us, holding hunched over and compact positions for long periods is an unavoidable part of our work and office life. If you're finding that stiffness from being sat over your computer or at a desk for hours is taking its toll, Yin yoga is the perfect practice to release stiffness and tightness caused by stress.
What are the specific benefits of Yin yoga?
Through Yin yoga, athletes in any sport and practitioners at all levels can increase their mobility, relieve stress and tension, and develop more flexibility overall.
Which poses are included in Yin yoga?
Our Yin yoga practice will take you through a range of movements that target high stress and tension areas, such as the back, shoulders, hips, abductors, thighs, and hamstrings. At Yoga Holmes, we aim to create better awareness of the back and invite inner Drishti to your back body through a series of passive stretches that benefit the connection tissue and encourage flow.
Who should avoid Yin yoga?
Our Yin yoga online classes are designed for practitioners of all ages and stages and focus on gently releasing the tension, no matter how flexible you currently are. If you have hypermobile joints, you may want to speak to your healthcare professional before deciding if Yin yoga is right for you.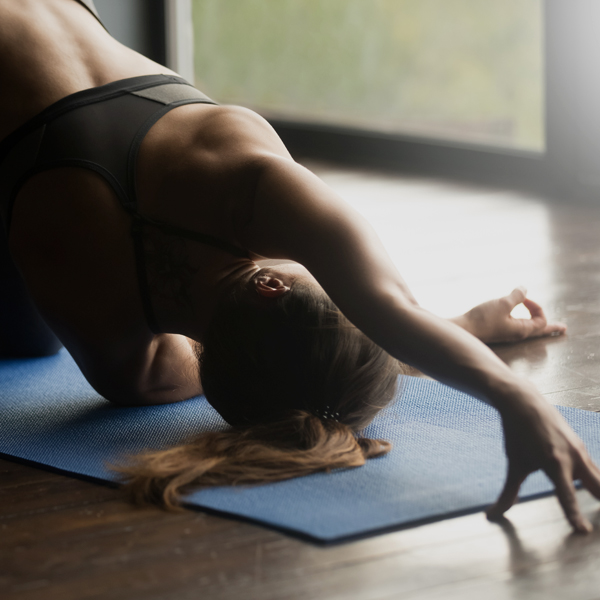 Online Yin Classes
Yin yoga classes quiet the mind and improve your flexibility and range of motion regardless of whether you are brand new to yoga or are an advanced yoga practitioner.
Each position helps to release stiffness in the parts of your body that are tight due to stress, repetitive physical habits, working at desks or hunched over your computer. For instance, if your shoulders are rolled forward toward your chest from looking at your phone or if the front and back of your thighs make it difficult to stand tall or fold forward, online yin classes will help to undo the stress that overwork and lack of movement creates. Your improved flexibility will get you back doing the things you love to do.
This practice is not just for those who have overall flexibility issues as no matter what level you are at your favorite sport, yoga practice or other activity, there is greater flexibility through yin waiting for you.
Our yin classes primarily cover the full body, including hips, hamstrings, thighs, shoulders and back. There are also yin classes that are specific to one or a few body areas. Each practice is unique. Most poses are long-held stretches (3 to 5 minutes) which enables your muscles to relax into the stretch and your mind to quiet. Yin will help your body change from plastic to elastic!
Join us at any of our many online yin yoga classes provided on Yoga Holmes TV or join us for our live classes at one of the Las Vegas, NV TruFusion Studios or at our next Yoga Retreat.